Complicated Giant Hernia - A Life-threatening Disease and a Therapeutic Challenge
Francisco S. Collet e Silva, MD, FACS; Belchor Fontes, MD; Newton Djin Mori, MD; Edison Bonafe, MD; Henrique Summo, MD; Celso Oliveira Bernini, MD; Samir Rasslan, MD, FACS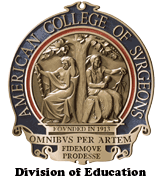 Product Details
Product ID:
ACS-2956
Year Produced:
2009
Length:
12 min.
Contact Us: 1-800-253-7657
Surgical treatment for large inguinal and incisional hernias is a challenge for the surgeon. In general, in these hernias, the contents of the hernial sac, after a long period, lose their domicile in the abdominal cavity. This makes elective surgical treatment difficult, requiring a rigorous pre-operative evaluation and adequate preparation (using pre-operative pneumoperitoneum and respiratory preparation).These hernias can lead to complications, some of which life-threatening, among them obstruction with intestinal gangrene, and infection as Fournier's Syndrome. Even an obstruction without necrosis of the intestinal is a challenge to the surgeon, who has to treat the patient, without pre-operative preparation.
Present two cases of large hernia with complications that required emergency surgery.
One case: Large inguinal hernia and Fournier's syndrome. Second Case: Large incisional hernia with obstruction and intestinal gangrene.
The shame and/or fear of treating the hernia in the initial phase of the diseases, in both cases, discouraged the patients to ask for medical attention early. The giant hernia and complications could be avoided by the treatment of the hernia as soon as it begins.