Surgeons, Residents, Medical Students-Are You Dressing For Success?
Surgeons, Residents, Medical Students-Are You Dressing For Success?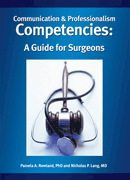 Communication & Professionalism Competencies: A Guide for Surgeons, published by Ciné-Med Publishing, Inc., provides practical information for surgeons, residents, and fellows on relevant topics for communicating effectively with peers, patients, administrators, and the myriad of other professional and personal interactions created daily.
The author, Dr. Pamela Rowland, states that her favorite chapter is Professional Image: Physician Credibility, because of its controversial topic. This topic has been trending among physicians and seems to keep popping up in professional situations. Dr. Rowland refers to the criticism that young American medical students and physicians have been previously "put down" because of their casual dress, but she adds that these students and residents are now being taught professionalism along with the rest of their curriculum.
In 2005, Dr. Rowland and colleagues conducted a study using experimental design to determine the effect of dress on professional image within an adult outpatient setting. The authors concluded that a surgeon's image mirrored competence, trust, expertise, and compassion. Further details of this study can be found at the Journal of Education website.
In the year following this study, the New York Times further addressed the topic of surgeon image as it relates to professionalism and competency, and tapped Dr. Rowland for her continued research and expertise on the issue. The article points out that "Patients and colleagues may dismiss a young doctor's skills and knowledge or feel their concerns aren't being taken seriously when the doctor is dressed in a manner more suitable for the gym or a night on the town. There are also hygiene considerations: open-toed shoes don't protect against the spills that commonly occur in patient care, and long, flowing hair can potentially carry harmful bacteria." Dr. Rowland added, "Patients don't have your c.v. in front of them, and appearance is all they have to go by. If you don't meet their expectations, their anxiety level increases." A copy of the full article can be viewed in this New York Times article.
In the chapter, Professional Image: Physician Credibility, Rowland and her coauthor observe, "Because the relationship with a surgeon may be brief before a procedure, the role of dress, behavior and communication shall assume exaggerated importance in the course of the relationship." In the chapter, they provide comprehensive lists of "Safe Items for Professional Image" for both the adult outpatient setting, and the oral examination setting for students. See what you should and should not be wearing in the graph below.
Safe Items for a Professional Image in Adult Outpatient Settings
Male
Female
Shoes
tied, leather, no sandals
Shoes
closed toe, no sling-backs, no sandals
Tie
conservative; tied with a dimple
Skirts
conservative length, not ankle length
Pants
no jeans
Stockings
natural colored
Shirt
collared
Jewelry
only one earring per ear; business watch, wedding band
Socks
color should blend with color of pants
Blouse
conservative cuts front/back, avoid ruffles
Belt
leather, same color as shoes
Hair
should length or above, natural colors
Hair
style conservative for age; clean, not matted
Hygienne
Americans are expected to bath daily; good oral hygiene; no body odor
Hygienne
Americans are expected to bath daily; good oral hygiene; no body odor
Jackets
layering with either labcoat or suit jacket
Jackets
layering with either labcoat or suit jacket
Age
not a factor
Age
not a factor
Pamela A. Rowland, PhD is an educator at The University of North Carolina at Chapel Hill School of Medicine. She specializes in the analysis of faculty, residents and medical student performance by observing different behaviors, techniques and competencies.