Atlas Focuses Solely on Surgical Technique for Bowel Anastomosis
Atlas Focuses Solely on Surgical Technique for Bowel Anastomosis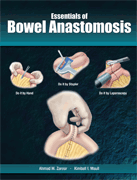 Essentials of Bowel Anastomosis, by Ahmad Zarour, MD and Kimball Maull, MD, fulfills the demonstrated need for surgical trainees to acquire and maintain their skills in different techniques of bowel anastomosis.
Zarour states that the Essentials of Bowel Anastomosis is intended to be a comprehensive yet concise reference work covering modern techniques of bowel surgery, describing both hand-sewn and stapled anastomoses in two settings, conventional open surgery and minimally invasive surgery. "We believe that in this magnificent text book on Bowel Anastomosis will be the world standard for decades."
This text covers the entire spectrum of gastrointestinal anastomosis, including anatomy, indications, and basic surgical principles and techniques through detailed instruction in both hand-sewn and stapled anastomoses. More than 200 high resolution illustrations assist the reader in understanding and applying the various anastomotic techniques in his or her practice which is unlikely to be matched by other textbooks.
This book is also required reading for the Essentials of Bowel Anastomosis Surgery course, a 2-day course of lectures and skills training conducted in a simulation lab. The course is currently run in several locations and expected to expand within the next year.
For information about the EBA surgery course, visit EBASurg.com.