Policies
Orders are processed Monday through Friday between 8:30 a.m. and 3:00 p.m. EST.
Next day orders must be placed before 3:00 p.m. EST. Orders placed after 3:00 p.m. will be processed the following business day.
Ciné-Med is not responsible for typographical or other errors/omissions regarding pricing.
Returns
Returns are accepted within 30 days of purchase for defective or damaged items only.
Order Status
Ciné-Med will keep you informed via email of order status and shipping. If you order by UPS, a shipment tracking number will be emailed to you when your order ships.
Modifying Your Order
You may request a change to your order, provided your order has not already been charged or shipped. Please call during business hours (8:30 a.m. to 5:00 p.m. EST) to request any changes. Please have your order number ready. Requesting changes or order cancellation via email is not recommended due to potential delays or errors in email delivery.
Shipping Options
UPS Ground - 5-7 business days
UPS 3 Day Select
UPS 2nd Day Air
UPS Next Day Air
FEDEX Priority Next AM
FEDEX Priority Next PM
FEDEX 2nd Day
FEDEX 3 Day
USPS Express Mail - 2 business days
USPS Priority Mail - 3-5 business days
All international orders ship via USPS, rates very by location.
Estimated Shipping Times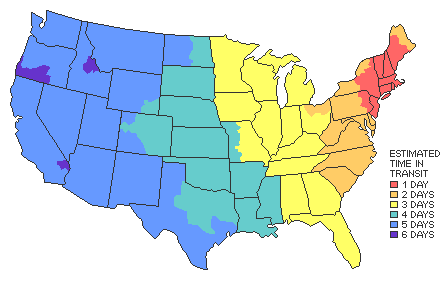 Handling Charge
A handling charge of $3.50 is applied to all orders and is included in the shipping rate, except on orders that qualify for free shipping.
Sales Tax
Applicable sales tax will be charged for orders billed within Connecticut and Indiana. Tax-exempt code should be submitted where applicable.
Payment Methods
The following payment methods are accepted:
Visa
Mastercard
Discover
American Express
Purchase Orders
Check
Copyright
All products offered on this website are copywritten and may not be copied for any reason. Please contact us if you have any questions.
Privacy
We may collect information (including name, address, telephone number, email address, transaction information, credit card information) when you:
Place an order from our catalogs or on our website
Make a purchase at an industry tradeshow
Return an item or make an exchange
Inquire about our services
Request a catalog
Sign up for email product updates
Participate in a marketing survey, promotion or event
How We Use The Information We Collect
At Ciné-Med, we always want to provide you with the best possible shopping experience and fulfill your orders exactly as you have requested. In order to do this, we collect information that allows us to:
Process and track your order
Provide the services you request
Contact you about the status of an order
Send you catalogs or promotional offers we believe will be of interest to you
Send you Ciné-Med email product updates
Identify your product and service preferences
Customize our communications to you
Provide information concerning products you have purchased
Improve our merchandise selection and customer service
Security
When our order form asks you to enter personal information (such as your credit card number), that information is encrypted via 128-bit SSL to secure its transmission across the internet. All Ciné-Med servers, including web servers and database servers, are housed and maintained in secure locations. Once an online order has been processed and your credit card has been charged, your credit card number is deleted from our database for further security.
Technical Support
I am having trouble playing a DVD on my computer.
In order to play a DVD on your computer, you may need a DVD decoder. This is the case for Windows XP for example. The VLC media player is a great, free, open source media player that can play DVDs. For more information please visit Microsoft's website regarding DVD playback.
My computer's DVD player gives me an error saying 'Create Overlay Failed, lower resolution' or the DVD won't play correctly when I try to play it.
Try lowering your monitor's refresh rate rather than lowering your resolution. Right click on the desktop and select Properties. Click on the Settings tab then click on the Advanced button. Click on the monitor tab and then set the Monitor Refresh Rate to, say, 60Hz.
Do your DVDs support other languages or subtitles?
No, we do not advertise them as section 508 compliant or multilingual.
Are your DVDs region coded?
No, you can play them in any region, there are no restrictions.
What format are your DVDs?