Innovative Approach to Resection of a Type III Choledochal Cyst
Steven M. Cohen, DO, FACS; Elias Chousleb, MD; James Turner, MD, FACS; Kenneth M. Rifkind, MD, FACS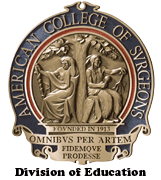 Product Details
Product ID:
ACS-2971
Year Produced:
2009
Length:
7 min.
Contact Us: 1-800-253-7657
34 year old female, previously healthy with RUQ/epigastric pain for 2 days w fever. She was tachycardic and febrile, no jaundice noted but she had RUQ and epigastric tenderness, with no rebound or guarding . She was placed on IV antibiotics with a diagnosis of cholangitis. A healthy 34 year old female presented to the ED with right upper abdominal and epigastric pain, non-radiating for 2 days. She was tachycardic, febrile, a bili 4.0. MRI revealed biliary ductal dilitation near head of pancreas confirming a Type III choledochal cyst, surgical excision was planned. Type III, bile duct dilatations within the duodenal wall (choledochoceles), make up about 5% of choledochal cysts.
Following extensive pre-operative planning we proceeded with resection. We performed a cholecystectomy, full mobilization of the duodenum and a lateral duodenotomy with cannulation of the pancreatic duct, resection of the choledochal cyst with a Roux-En-Y hepaticojejunostomy.
Choledochal cysts, although being rare entities. Due to high incidence of malignancy, surgical resection is treatment of choice. A safe approach for the total resection of the cyst is critical. Our description of the resection of a Type III choledochal cyst is an operative technique for the safe resection with preservation of pancreatic duct integrity.