Multiorgan Resection for T4 Gallbladder Carcinoma
Francesco Crafa, MD; Lorenzo Lovine, MD; Andrea Ferroni, MD; Marco Di Giovan Paolo, MD; Alfonso Grottesi, MD; Simonetta Iacovitti, MD; Giuseppe Miranda, MD; Francesco Prete, MD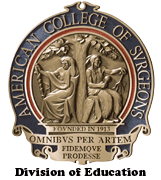 Product Details
Product ID:
ACS-2957
Year Produced:
2009
Length:
14 min.
Contact Us: 1-800-253-7657
Gallbladder cancer is an aggressive disease often presenting in advanced stage (III - IV). However over the last few decades selected groups have reported improved results with aggressive surgery for advanced gallbladder cancer.
A 67 year old Caucasian female was admitted in April 2007 to our department for T4 gallbladder carcinoma. Patient was malnourished. Preoperative CT scan showed a gallbladder cancer infiltrating the pylorus and a small left liver lobe. We performed an explorative laparoscopy in order to exclude peritoneal carcinomatosis, a pyloric wall stent placement, an aggressive policy of enteral nutrition and a right portal vein embolisation. One-month later adequate hypertrophy of left liver lobe was obtained and nutritional status improved. On May 2007 we performed an en bloc a right hepatectomy, associated to duodenopancreatectomy, D2 linfectomy and right colectomy. Reconstructive time achieved a pancreatic jejunal anastomosis, left hepatic duct jejunal anastomosis, mechanical gastro-jejunal anastomosis; the operation ended with ileo colic anastomosis and a temporary ileostom.
Operative time was 8 h and blood loss was 600cc. Postoperative course was uneventfully; patient was discharged on 35th postoperative days. Histology demonstrated a T4N1M0 G3 gallbladder carcinoma (stage IV). Patients survived 15 months and she died of peritoneal carcinomatosis.
Before aggressive surgical resection for stage IV gallbladder cancer a multimodal treatment is advocated in order to reduce the patient's comorbidities. Acceptable survival may be expected among such patients when curative resection is achieved.