Robotic Right Hepatectomy for Giant Hemangioma in a Young Jehovah's Witness
Francesco Bianco, MD; Fabio Sbrana, MD; Subhashini Ayloo, MD; Kendra J. Grubb, MD; Alberto S. Gallo, MD; Andrea Coratti, MD; Piero C. Giulianotti, MD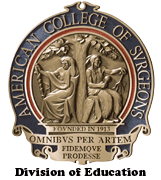 Product Details
Product ID:
ACS-2693
Year Produced:
2008
Length:
9 min.
Contact Us: 1-800-253-7657
Introduction: Blood-less hepatic surgery is a challenge. The incidence of transfusion is up to 30-40% in these cases. Robotic technology seems to offer an interesting perspective. Our incidence of transfusion in more than 40 cases has been less than 5%.
Methods: A totally robotic right hepatectomy in a 32 year old woman belonging to the Jehovah's Witness with a giant hemangioma of the right liver (segments VI and VII) was performed.
Results: As a preliminary step a full exploration and an endoscopic ultrasound scanning of the liver are performed. The first step of the procedure consists of the dissection of the hepatic hilum. Second step, the hepatocaval plane is dissected. In this step, the fourth arm of the robot is used to lift and retract the right lobe. This maneuver allows the surgeon to control and transect all the accessory hepatic veins. The third step consists of the parenchymal transection. This is accomplished using the Harmonic scissor as the main tool; hemostasis is then achieved when needed with bipolar coagulation, prolene stitches and clips. The transection proceeds layer by layer to keep the transection line always under control. Transection of the right hepatic vein is accomplished with a vascular EndoGIA stapler. At this point the mobilization of the right liver is completed. The operative time was 300 min; the blood loss was 300 ml. The post-operative course was uneventful and the patient was discharged in good condition.
Conclusion: Robotic technology allows a very precise surgery decreasing the amount of blood loss even in major hepatectomies.