Single-Port Transumbilical Cholecystectomy
Joel Leroy, MD; Silvana Perretta, MD; Daniela Calabrese, MD; Didier Mutter, MD; Bernard Dallemagne, MD; Jacques Marescaux, MD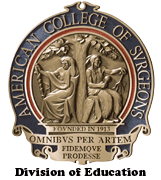 Product Details
Product ID:
ACS-2674
Year Produced:
2008
Length:
6 min.
Contact Us: 1-800-253-7657
Introduction: Laparoscopic techniques and instruments are evolving to minimize bodily trauma. Single port transumbilical surgery represent a further step toward the developpment of minimally invasive surgery building a bridge between laparoscopy and translumenal endoscopic surgery. To evaluate the technical feasibility of laparoscopic cholecystectomy by a new single port system TriPort (Advanced Surgical).
Methods: 34 year old women with symptomatic cholelithiasis. With the patient in lithotomy position a 12mm cut-down incision at the umbilicus is performed to allow the introduction of the TriPort system. This device is comprised of 3 separate ports, two 5 mm and one 10 mm channel, and a valve which maintains the pneumoperitoneum. The key steps of laparoscopic cholecystectomy were reproduced with a 5mm 0 degree optic held by the assistant, a curved tipped atraumatic grasper in the surgeon's left hand and curved tip monopolar scissors (Covidien) in the surgeon's right hand. The cystic duct and artery were identified dissected, clipped and divided. A retrograde cholecystectomy was then carried out in the standard fashion. The gallbladder was extracted through the umbilical incision.
Results: All the principles of laparoscopic cholecystectomy were easily reproduced with an operative time of 20 minutes and no intraoperative complications. The patients had no post-operative pain, no visible scar and was discharged on postoperative day 2.
Conclusion: Here we show that transumbilical surgery using the TriPort device was safe and effective with minimal postoperative pain and excellent cosmetic results. This single access approach shows great potential being readily available with no flexible skills required.