Combination of Selective Hepatic Vascular Exclusion and Sharp Transection for Major Hepatectomies
Nikolaos Arkadopoulos, MD; Vassilios Smyrniotis, MD; Kassiani Theodoraki, MD; John Vassiliou, MD, FACS; Panagiotis Dimakakos, MD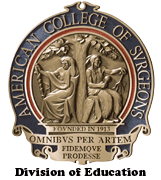 Product Details
Product ID:
ACS-2422
Year Produced:
2005
Length:
14 min.
Contact Us: 1-800-253-7657
Parenchymal transection is an important stage of liver resection. Among the various transection techniques, finger fracture, clamp-crushing and ultrasonic dissection are the most widely used. In this video we present the technical details of a major hepatectomy performed for an 8-cm right lobe cholangiocarcinoma using sharp liver transection under selective vascular exclusion, a method that implies complete inflow and outflow occlusion of the liver without disturbance of the flow in the inferior vena cava.
Briefly, following division of its ligamentous attachments, the liver is disconnected from the Retrohepatic inferior vena cava by dividing the short hepatic veins. Following intraoperative ultrasonography, the hepatoduodenal ligament is clamped and the major hepatic veins are dissected and clamped extrahepatically. Next, the liver parenchyma is transected with a scalpel. Hemostasis is achieved by suturing all vascular and biliary orifices on the remnant side only.
In conclusion, sharp transection of the liver is a safe but technically demanding method that requires experience with vascular exclusion techniques. However, the technique is fast, allows extremely precise resection planes and may be preferred when the tumor-free margins are anticipated to be narrow, as it happens with tumors close to major vascular and biliary structures that need to be preserved.