MS1116
SAGES Grand Rounds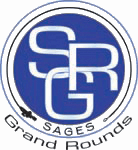 SAGES Grand Rounds is an innovative, new concept designed to deliver to you current information on topics in the field of minimally invasive surgery. Each episode in this series is dedicated to a specific disease or disorder and is filled with the latest information from leading experts on treatments, techniques, and complications, culminating in case discussions.
Some of the SAGES Grand Rounds features include:
Grand Rounds style in depth lectures by leading experts in the field of minimally invasive surgery. Each issue contains approximately 2 hours of surgical educational material delivered in a variety of formats including slide presentations, discussion, and video.
DVD format chapter organization that allows easy viewer reference.
Video segments included in each issue to illustrate important techniques or procedures.
Case discussions and review of difficult management problems.
Episodes
Special Offer
Buy any 2 SAGES Grand Rounds Episodes, save $10
Buy any 3 SAGES Grand Rounds Episodes, save $30
Buy any 4 SAGES Grand Rounds Episodes, save $50
Buy any 5 SAGES Grand Rounds Episodes, save $75
Buy any 6 SAGES Grand Rounds Episodes, save $100
Buy any 7 SAGES Grand Rounds Episodes, save $125