Zollinger-Ellison Syndrome Presenting as Recurrent Marginal Ulcers after Gastric Bypass
Raul J. Rosenthal, MD, FACS; Jeremy G. Eckstein, MD; Sheetal M. Patel; Wasef Abu-Jaish; Alexander Ramierez, MD; Acholonu Emeka, MD; Ishmael Court, MD; Samuel Szomstein, MD, FACS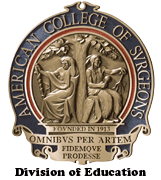 Product Details
Product ID:
ACS-2772
Year Produced:
2009
Length:
9 min.
Marginal ulceration is a relatively common complication after Roux-En-Y Gastric Bypass (RYGB). We present a case of recurrent marginal ulceration due to Zollinger-Ellison syndrome. The diagnostic algorithm and surgical management are discussed.
Case Report: A 68 year old female underwent an open retrocolic retrogastric RYGB for morbid obesity eight years before new onset of symptoms. The patient complained of epigastric pain and anemia. On endoscopy a marginal ulceration at the gastrojejunal anastomosis was diagnosed. Treatment with proton pomp inhibitors and sucralfate was initiated with no significant improvement. Gastrin levels showed to be markedly elevated at 2600. A CT Scan of the abdomen failed to reveal any lesion. An octreotide scan showed heavy uptake in the area of the gastric antrum. Under the diagnosis of a gastrinoma, the patient was taken to the operating room for a laparoscopic exploration and intraoperative transgastric enteroscopy and endoscopic ultrasound. On endoscopy a lesion was found at the first portion of the duodenum. A remnant gastrectomy with proximal duodenectomy was performed.
The patient tolerated the procedure well and recovered uneventfully. The final pathology results came back as a non-invasive gastrinoma.
Gastrinoma although very infrequent should always be part of the differential diagnosis in patients with recurrent marginal ulceration after RYGBP. Due to the inability to perform endoscopy and endoscopic ultrasound of the gastric remnant and duodenum, the tumor localization and treatment becomes a challenging scenario for the treating physician.