Resolving Conflict in the Professional Setting
Resolving Conflict in the Professional Setting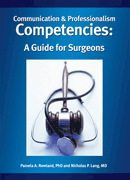 Communication & Professionalism Competencies: A Guide for Surgeons, published by Ciné-Med Publishing, Inc., is an excellent reference for all medical personnel seeking to communicate more effectively.
Author Pamela A. Rowland, PhD discusses her chapter on Conflict: The Skilled Response. This chapter deals with how to properly handle conflict situations and the behaviors that create them. Dr. Rowland states that new research suggests that when an experienced surgeon is placed within a new team, their performance goes down. "We have to work as a team and know how to handle and respond accordingly as a professional; that is the goal." This chapter asserts 3 basic methods for resolving conflict: power contests, rights contests, and interest reconciliation. Only interest reconciliation can result in a win-win as it provides to those within the conflict alternate solutions which are not focused solely on the individual's needs, but rather places higher value on the needs of the group.
The importance of communicating effectively in the healthcare environment ranges from clearly written script orders to speaking to a patient's family regarding their condition; however, medical personnel must also communicate effectively with peers, administrators, staff, and all others with whom they interact on a daily basis.
The book's 20 chapters include such topics as professional image, asking for tissue and organ donation, communicating with children on their level, physicians as patients, delivering bad news to patients and family, as well as preparing for residency, fellowship and employment interviews. The complete table of contents can be viewed here.
Pamela A. Rowland, PhD is an educator at The University of North Carolina at Chapel Hill School of Medicine. She specializes in the analysis of faculty, residents and medical student performance by observing different behaviors, techniques and competencies.