AORN's videos have been compiled into five collections, organized topically to facilitate comprehensive training in specific areas. These collections represent the recommended videos list included in the Periop 101: A Core CurriculumTM course.
Each collection includes course study guides and post-tests on the disc in PDF format.
If you have purchased AORN's Periop 101: A Core CurriculumTM license agreement, please enter the code in the checkout section to receive your discount prices.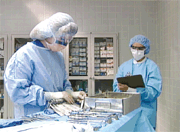 If you are an AORN Perioperative 101 Customer, you may purchase all 34 videos, on individual DVD or CD-ROM discs.
Also available: AORN Best Sellers Collections. Same great videos, a different way to buy.
Special Offer
Buy any 3, save $100
Buy any 4, save $150
Buy all 5, save $200